KEVIN IS MEETING WITH POTENTIAL CUSTOMER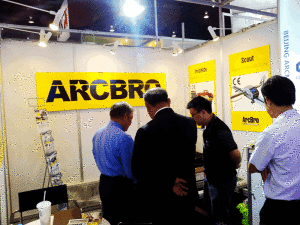 KEVIN IS EXPLAINING HOW TO USE THE MACHINE FOR THE CUSTOMER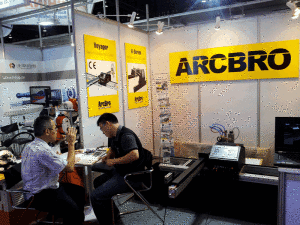 THE MACHINE SHOWED IN THIS EXHIBITION
One Bangkok Matelex 2012, our Voyager series portable cnc cutting machine has a great reception in the Thailand market. Our customers confirmed many orders and it is a great show.
Voyager series is born in the end of 2011. Because we use the best material, and new design, it is the unique model that can do heavy duty work, can match with Servo motor in portable type range machine. Voyager series is with the top technology industrial design, with high precision and stable structure, this model have been the best model in Chinese single arm type portable cnc cutting machine, it is very well sold in European market in 2012. And now because of the increase of high-end machine demand, Asian market's demand for high-end portable cnc cutting machine as Voyager is increasing also.
Voyager can match with all the common plasma source, and can use the automatic torch height controller for both flame and plasma. The width of this model and be up to 2.2M, and when cutting it is still very stable. It is like the king of single arm type portable cnc cutting machine. And it has been our flagship model in our production range.
I think all the customer's support is important to us, and if everyone has the suggestion for cnc cutting machine, you can feedback to us. We will consider your suggestion carefully, and wish next model has the idea from you.