Fine hole plasma cutter technology and application
---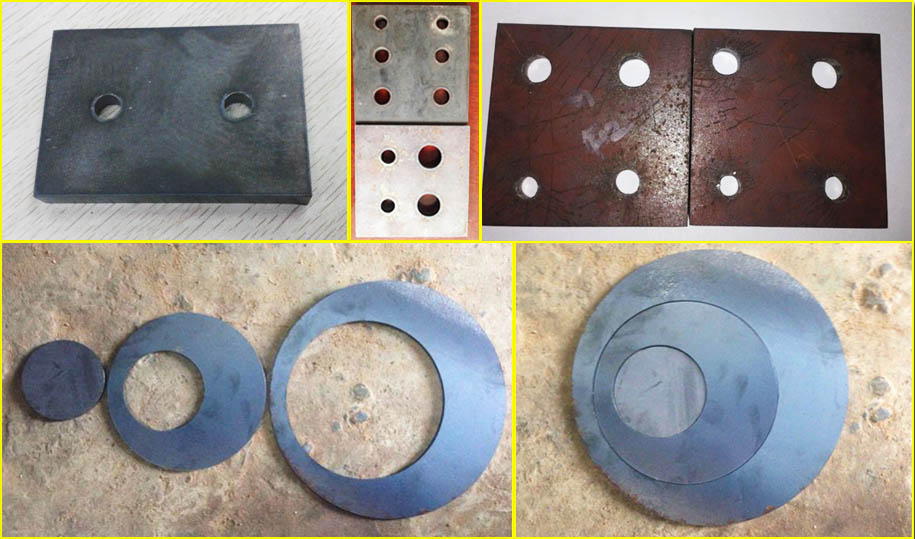 CNC flame plasma cutting machine after 10 years of development, it has been popular in China manufacturing. Various gantry CNC cutting machine annual output of over 10,000 units. Fine hole plasma cutting technology is mainly CNC cutting machine to a higher quality development.
Fine hole are implemented on a thickness of 5 ~ 25mm diameter low carbon steel sheet thickness ratio of 1:1 hole cut in a certain range can replace drilling and laser cutting. Such as vibration sieve, fan interposer elongated holes, vents, filter hole, bolt-hole, lift weights perforated cutting.
Fine hole cutting control program, the cutting process by calling the library plasma, control the cutting speed, gas flow rate, arc voltage and other relevant parameters to get better with a fine hole cut effect.
Fine hole Standard: vertical bore of not more than 1 °, the roundness of ± 0.20mm, hole size better consistency, accuracy did not change significantly. With fine holes cutting technology CNC plasma cutting machines and conventional CNC plasma cutting machine, compared based on order of importance, we need to pay attention to the following four elements:
(1) The accuracy of machine movement. The machine has high mechanical resistance and precision, the CNC cutting machine should not only lightweight, but also have sufficient strength and rigidity. The design process should be subject to finite element analysis, all the structural parts subject to stress annealing process, the individual components have a high precision machining. The servo system should have sufficient output torque margin and better dynamic response of the machine in order to ensure a sufficiently high acceleration.
(2) Plasma power supply system. plasma power cut quality is the second element, the degree of vertical incision cut normal state is not more than 2°, is required to have automatic gas adjustment and control, control commands can accept numerical control system.
(3) Cutting process with database programming nesting software. For small hole cutting process requirements, programming software not only need to have the perfect cutting path optimization, and the need to bring the plasma cutting process database, automatically call for programming and cutting. Program generated for an arc voltage height control containing, plasma power control instruction.
(4) Numerical control system and increase the arc voltage. CNC system requires lifting and control, plasma power of communication control functions. Arc voltage height control system needs to have a sufficiently high speed, precision, able to accept the control of CNC system.
The device can be widely used in automotive, agricultural machinery, food machinery, engineering machinery, high-speed rail, construction machinery, boilers, fans, elevators, Stone saw the matrix and other industries precision cutting sheet metal parts. Many parts after cutting almost without subsequent machining, significantly reduce part machining cycle, improve production efficiency and reduce processing costs. Compared with laser cutting machine, it has a stronger cutting capacity (cutting thickness wide range), low cost of ownership and low production cost.